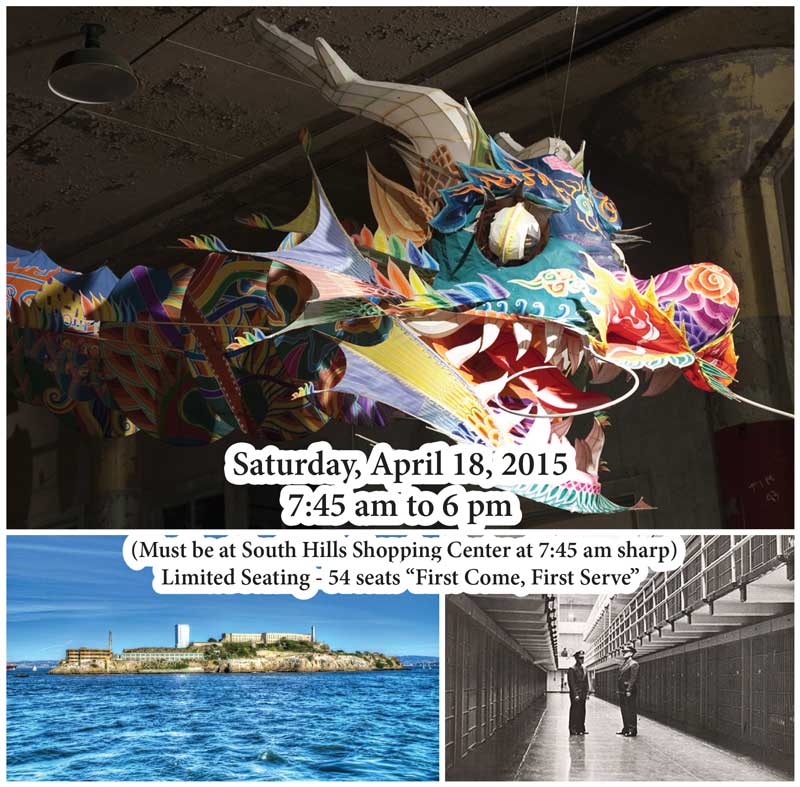 CACS Annual Bus Trip to Alcatraz
Featuring Ai Weiwei with Wind Exhibit
Saturday, April 18, 2015
7:45 am to 6 pm
(Must be at South Hills Shopping Center at 7:45 am sharp)
Limited Seating - 54 seats "First Come, First Served"
Includes:
R/T Bus to San Francisco and back
R/T Ferry Ride leaving at Pier 33
Docent Tour
Featuring the Ai Weiwei with Wind Exhibit
Box Lunch, Snacks & Water
Cost: $58 members/$65 non-members
Deadline to reserve a seat on the bus April 1, 2015
Become a Member today to get the Members Cost!
Adults $25 a year/$60 for 3 yrs.;
Seniors (62 & over) $15 year/$40 for 3 yrs.
(Include with the cost of the trip)

Make check payable to:
CACS,
P. O. Box 22583,
Sacramento, CA 95822

RSVP to Joyce Eng at jeng916@sbcglobal.net or 916-995-1186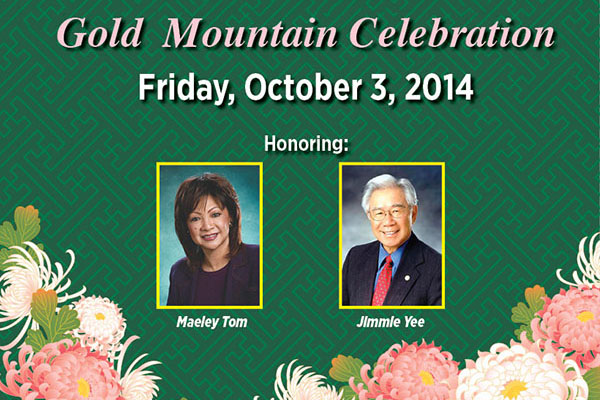 Photos from July 12 San Francisco Bus Tour
On Saturday, July 12, 2014, CACS members and friends boarded a charter bus to travel to San Francisco Chinatown. The trip included a guided tour of Chinatown, lunch at the Four Seas Restaurant followed by a lecture by Phil Choy on his book "San Francisco Chinatown."
President's Message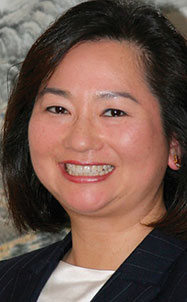 Dear CACS Friends and Members,
Spring is here and our Board Officers have been kept very busy with community networking and outreach. I extend my personal thanks to the Board for this first quarter to continue the excellent programs to engage and collaborate with our community. We have continued to meet many friends and community leaders who make a difference in the Greater Sacramento area. My board and I attended a number of social fund-raising and educational programs and we share those feature stories in this newsletter. I hope you will enjoy reading these stories and let me know how you can help with serving CACS' mission and attend our next event.
On March 21st, we hosted a very successful Membership and Volunteers Appreciation Dinner at the Holiday Villa. I thank Cathy Wei, VP, for chairing this event. We met new friends and gained some new members. In addition, Mr. Jim T. Chong joined the CACS board recently and he is a very talented writer for the APA Newspaper, among, his other professional interest as a financial consultant.
I would like to thank the following organizations who included the Chinese American Council of Sacramento in their programs and where we reciprocated in financial and other support to the Japanese American Citizens League (JACL) Sacramento Florin Chapter - "Time of Remem- berance" - Candle Light Ceremony at the California Museum on 2/15; Asian Pacific Islander American Public Affairs Association (APAPA) - 15th Annual Scholarship/Internship Dinner where CACS' contribution supports the educational, internship and civic engagement programs on 4/6; Asian Pacific State Employees Association (APSEA) where CACS provided a $1,000 scholarship to Albert Lui, Mira Loma High School student on 4/22; Sacramento Florin JACL and CAIR - Greater Sacramento Chapter (Council of American-Islamic Relations) 9th Annual Pilgrimmage to Manzanar on 4/25-27; OCA Dragon Boat Celebration on 5/3; My Sister's House where CACS donated $2,000 to support its efforts to provide a safe haven for Asian women and children who are experiencing domestic violence on 5/19. In all, we have been busy at the above outreach programs to support those organizations that shared mutual interest with the mission and goals of CACS.
If you have any suggestions about the programs for CACS, please call me at (916) 261-2118 or at hxlum@comcast.net. All the Best,
Honey Lum, President 2014
Upcoming Events
July 12, San Francisco Bus Tour
August, Cares for Kids - School Supplies Program
Oct. 3, Annual Gold Mountain Celebration
December, Operations Santa Claus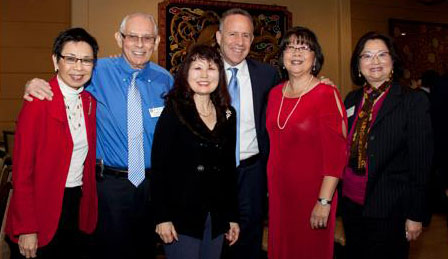 CACS Supports ARI
By Joyce Eng
CACS attended Asian Resource Inc. Lunar New Year Dinner at the Happy Garden Seafood Restaurant on Feb. 6, 2014. The honoree this year was Senator Darrel Steinberg. Over 500 people attended this event to support the many ARI programs, i.e. ESL classes, Immigration, Youth programs, Citizenship classes, Senior Housing programs, and much more. CACS is proud to support ARI.
Author Lecture Luncheon Featuring Sylvia Sun Minnick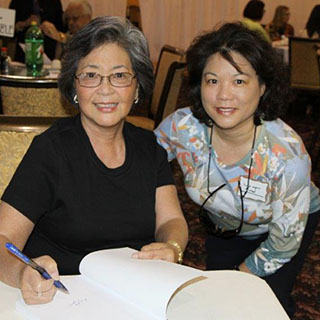 By Brenda Fong
On April 6th CACS hosted its annual "Author Lecture Luncheon" featuring Ms. Sylvia Sun-Minnick Chin, who presented her memoirs, "Never a Burnt Bridge". The event was held at the Happy Garden Restaurant where we enjoyed a 6-course luncheon, a raffle drawing, and a presentation by Sylvia. In addition to our members and friends of CACS, many of Sylvia's friends and associates were there and enjoyed the time socializing and networking.
Born in Kuala Lumpur, Malaysia, Sylvia has lived in Stockton for most of her life. She is the President of the Chinese Benevolent Association and founder/president of the Quan Ying Foundation, a nonprofit organization that provides housing for low-income seniors.
Professionally, Sylvia is a research historian and author of three books on Chinese heritage in Stockton. She is also a former Stockton city councilwoman (the first Asian woman to serve) and a well-respected member of the Chinese community. We are proud that she is a Life Member of CACS. A big thank you goes to Sylvia for all her help in making this luncheon a success.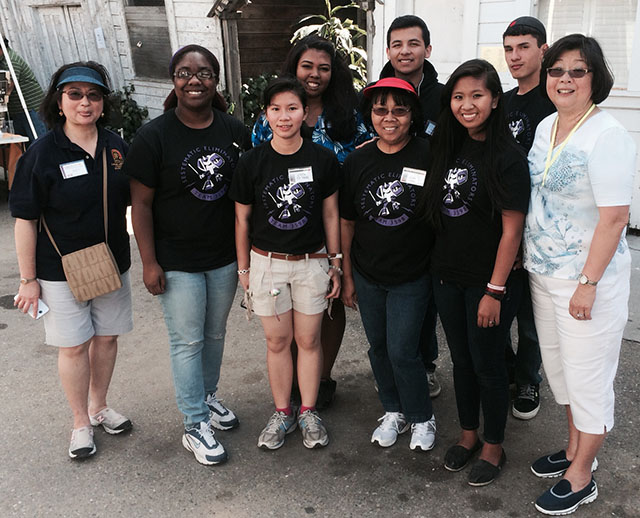 Locke Foundation API Spring Festival
By Joyce Eng
On May 10, 2014, the 6th Annual Locke Foundation Asian Pacific Spring Festival in Locke was kicked off with a lion dance and martial arts demonstration by the VFW Chung Mei Post under the direction of Sifu Dean Lee and Ron Aviles. Over 500 visitors came to enjoy the stage entertainment, music by Loki Rhythm, arts and crafts vendors, calligraphy demonstration, community organization exhibits and food concessionaires.
CACS has been a long time supporter of the Locke Foundation and Joyce Eng sits on the LF Board as Vice Chair. CACS had a booth as the Festival and it was staffed by Brenda and Brian Fong, and CACS President Honey Lum. CACS Vice president, Cathy Wei also was there to support the event by selling her fashionable jewelry.
This year CACS donated $1,000 to the School of Science and Technology Robotics Program. In lieu of CACS' donation, the Robotic Team of 14 volunteers came out to help at the Locke Foundation Spring Festival.
This free event is supported by Locke Foundation, community sponsors and donations including CACS. Chaired by Joyce Eng, the event committee included Clarence Chu, Eva Chu, Stuart Walthall, Wayne Miller and Eileen Leung. Thank you all who came out and supported this event.

CACS Welcomes New Board Member
Jim Chong is a long term care Navigator & Financial Solutions Professional, speaker trainer, & writer. He is active in several organizations and is the Director of Collaborative Partnerships on the executive team of two ethnic chambers. He also serves on the executive board of Healings In Motion, a 7 year non-profit entity focused on stroke awareness and prevention as well as brain health. Jim has had the opportunity to serve in a variety of ethnic and cause-based communities and believes deeply and giving back to the community and being the difference to those around him.
As one of the featured writers of the Asian Pacific American News & Review that spans the Central Valley and Greater Sacramento Area, he writes about issues that effect the Asian community as a whole as well as educating people about the diverse strengths and the things we can appreciate about the foundations laid in the Asian communities. Also an Executive Speaker and Speaker Trainer with the Solutions4Life S4L Speakers Circuit as well as a writer, Jim specializes in educating the community about collaborative win-win relationships as well as cultural and business etiquette and is very passionate about establishing relationships that are based on trust, openness, and honesty.
Jim can be reached at 209.534.8000 or jtchong@gmail.com.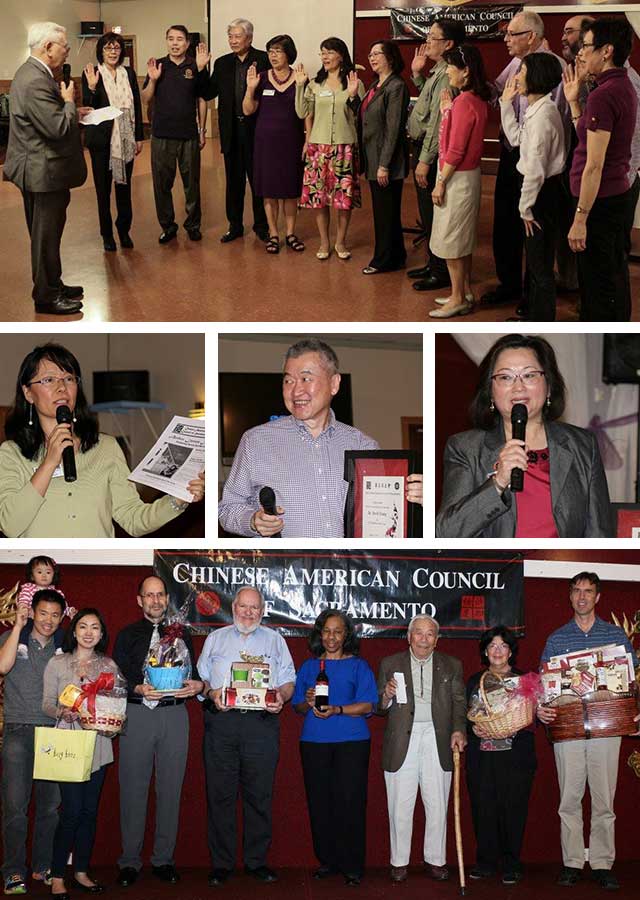 CACS' Annual Membership & Volunteers Dinner
By Brenda Fong
CACS held its Annual Membership and Volunteers Appreciation Dinner on Friday, March 21st at the Holiday Villa Restaurant. This complimentary dinner is our way of saying "thank you" to our valued members and volunteers who have given their continued support throughout the year.
We enjoyed an 8-course meal with guests and VIP's from our community. A program was presented by our new President, Honey Lum and our current Board members. The Honorable Jimmie Yee installed our new slate of Board officers.
We also honored Dr. David Young with the "Member of the Year" award for his leadership in our "Care for Kids" program. David partnered with the Sacramento Chinese Community Service Center and on his own, purchased over $1,500 in school supplies for two needy elementary schools in Sacramento, Caroline Wenzel and the Camellia Basic Elementary.
Special thanks to Cathy Wei for serving as Chair for the dinner; our Board members, Advisors and Life member & Author, Sylvia Sun-Minnick Chen for donating the many raffle prizes. Special thanks to Franc Martinez and Merlayna Yee-Chin for overseeing the registration table, Charlie Moy for the excellent video presentation, and Dr. Kingman Louie for his arranging of the PA system. On behalf of CACS, thank you for supporting our charitable programs and endeavors; with your help we are making the Sacramento Chinese community a better place!
Sacramento County History Day
By Karun Yee, Historical Chair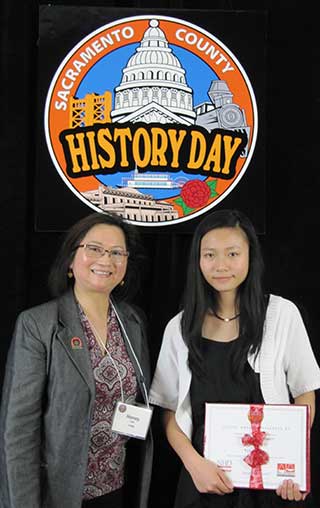 What a beautiful sunny day on March 8, 2014 for the judging of a tremendous scholastic program, one that encourages the exploration of history. The Chinese American Council of Sacramento is a proud participant at judging subjects pertaining to Chinese history at Inderkum High School. Students from 24 schools submitted entrees in the following categories: posters and exhibits, documentaries, website, performances and historical papers from 4th grade to high school age. The theme this year was: "Rights and Responsibilities in History". Judging was based on historical quality, presentation, and adherence to the theme. Teachers, parents and students worked hard to present very impressive historical projects while they investigated and learned about important turning points in our history.
President, Honey Lum and I represented CACS judging from 7:30 am to 2:30 pm. They reviewed numerous projects in all categories. "American Exclusion of the Chinese During the Gold Rush", a website documentary by Raees Mullah, won first prize. Newspaper articles, pictures, interviews and a huge bibliography demonstrated Raees did the homework. Second prize went to "China's One Child Policy, Restricting Rights of Parents since 1979", a poster exhibit by Yulan Feng, She explored pros and cons about this policy and its effect on the population with articles, pictures and interviews as well as historical political background news. Dr. Bob LaPerriere presented the scholarship awards. We were very impressed with the quality of the presentations. All the students are to be commended on their tremendous effort to gain a deeper understanding and share historical knowledge with others on Sacramento History Day.
In Memory of Dr. Richard M. Ikeda
By Brenda Fong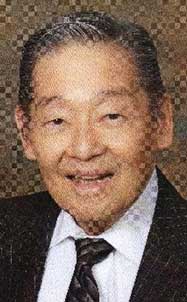 The community was saddened to learn of the passing of Dr. Richard M. Ikeda on January 24th. Dr. Ikea was 81 years old when he lost his battle with cancer. He is remembered for his commitment to providing medical care for the disadvantaged and was the Founder and Executive Director of "Health for All", a non-profit health care organization here in Sacramento.
He was the grandson of a Japanese immigrant and was born in Hawaii. Dick's father was a dentist trained in South California, but who returned to the Islands to serve the plantation workers who had no dental care. It was through his family that he found his calling to become a physician and serve those less fortunate.
In 2010 at CACS' Gold Mountain Celebration dinner, we were fortunate to honor and recognize Dr. Ikeda and his lifelong work with the Frank Fat Founder's Award. He was chosen for this award because he had performed a high level of community service in the API community for an extended period of time and had demonstrated leadership and organizational qualities. CACS also honored his memory with a donation to Health for All. Dr. Ikeda was recuperating from surgery and could not join us that evening, but we heard from him via a videotaping. His family and close friends were in attendance and accepted the award for him.
Dr. Ikeda once said: "People don't know how the poor live," This is the richest country in the world and we cannot handle taking care of our own poor people. That's what drives me," he said firmly, "equality for everyone—to level the playing field for everyone, especially the kids."
He was an individual with many talents and had a big heart and was a big influence to the API community. He is missed by his son, Steve, his sister, Karun and 2 grandchildren.
APSEA Scholarship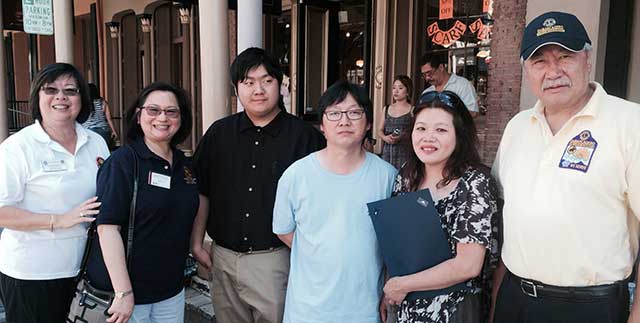 CACS Sponsors a $1,000 Scholarship to APSEA. Pictured Joyce Eng, Honey Lum, Scholarship Recipient Albert Liu, parents Sean Liu & Van Ly and Alex Eng

CACS Board Members Cathy Wei, Jim Chong, Alex & Joyce Eng, Brenda Fong and Franc Martinez attended.
OCA Sacramento Dragon Boat Festival
By Jim Chong
OCA Sacramento was formed in 1995 whose mission is to embrace the aspirations and hopes of the Asian-Pacific Americans. OCA annually celebrates the Dragon Boat Festival bringing together various organizations to focus on the loyalty and commitment to the community.
This year, as in many years, the special event highlights the sponsors, supporters, as well recognizing the heritage and upcoming leadership of the future generations. The event was held at the California Museum which contains a great collection of history and archives of those communities that have had a significant impact on California and the Asian community as a whole. One of the most powerful times during the event is the Lion/Dragon Dance which is arguably one of the most exciting, vibrant, and inspiring traditions of the Chinese heritage. Representing strength, prosperity, and vitality...the Lions/Dragons are usually captivating, colorful, and when in motion extremely energetic.