2013 Gold Mountain Celebration Honorees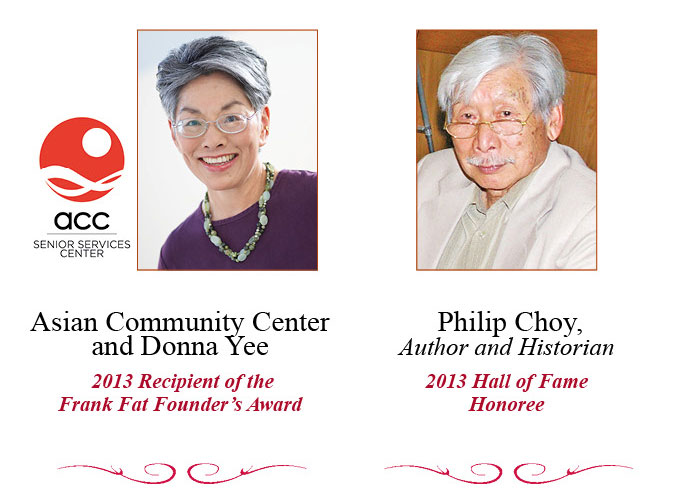 The Gold Mountain Celebration helps fund our Cares for Kids program, educational scholarships, community outreach and historial/cultural projects.
We appreciate your generous donation and sponsorship.
President's Message
Allow me to extend my appreciation to the CACS Board Members for all the hard work and hours they put in. Considering we have only 8 voting board members, it's amazing how much CACS is able to accomplish!
It's been a busy quarter for CACS. So many things going on in the community; so little time! Highlights include the Asian Resources Lunar New Year's Celebration on Feb. 21 (table sponsor); March 9, Board Members Karun Yee and Mary Hughes judged entries for the Annual County History Day on (see Page 3); and April 23 the CACS board attended the APSEA Scholarship Dinner as a Bronze sponsor.
Of particular note, the very successful CACS Annual Membership/Volunteer Appreciation Dinner on April 7 honored Pearl (Cho) Chang and John Cho as the outstanding CACS Members of 2013 (see Page 2). My personal congratulations and gratitude for their volunteerism at countless CACS events! My thanks also to Merlayna Yee and the Volunteers who pitched in for the Gold Mountain Celebration and the Cares for Kids projects. To the new members, and the renewing CACS members, welcome! Your support of CACS is greatly appreciated!
Since May is officially Asian Pacific Islander Month, it was especially busy with back-to-back events, beginning with the OCA Sacramento Dragon Boat Celebration on May 5. On May 11 CACS made a donation to the Locke Foundation and hosted a booth at the Locke Foundation's Annual Spring Festival. Sacramento's annual Pacific Rim Street Fest was held on May 19. CACS's Joyce Eng coordinated our CACS booth volunteers (Karun Yee, Honey Lum, Stephen Tse, Jeanie Lee) on that hot, windy day.
CACS continues to network with other nonprofit organizations by attending meetings and events hosted by CAPITAL, APAPA, OCA, Sacramento Consortium, and many others… so little time, so many meetings!
BTW, Congratulations to the Fat Family! Frank Fat Restaurant was awarded New York's James Beard Foundation's American Classics Lifetime Achievement Award for its timeless appeal and outstanding quality of food. We're very proud of you! (see Page 4)
Alex Eng, 2013 CACS President
Upcoming Events
Fri., July 12 - Angel Island Tour, 8 am - South Hills Parking Lot
Fri., Oct. 4 - Gold Mtn. Celebration, 5:30 pm at Happy Gardens Seafood Restaurant on Stockton Blvd.
Membership & Volunteer Dinner
By Brenda Fong
The "Members & Volunteers Appreciation Dinner," held at the Hong Kong Islander Restaurant on April 7th was our way of thanking you, our valued members and much-appreciated volunteers, for your continued support of CACS. We enjoyed a delicious eight-course meal with guests and VIPs from our community. A program was presented by our President, Alex Eng and our current Board members. The Honorable Illa Collin installed our Board officers. We surprised John Cho and his wife, Pearl Chang with the "Members of the Year" award.
Special Thanks to our new members: Eva & Clarence Chu (lifetime), Stephen & Maggie Tse (lifetime), Ronald Allen, Wai Man Chan, Kern Chew, Rowena Fong, Eileen Leung, Keith Johnson, Dave & Susie Low, Mary Ann Miller, Stuart Walthall, and Jeannie Wood. And thanks to our renewing members: Christine & Bill Fong, Shirlee Wong Snider and Darrel & Nancy Woo.
Thanks to Joyce Eng for donating items for our raffle draw, and our appreciation to Jeannie Wood of Grass Valley, who donated complimentary tickets to their play, "Journey to the West" at the Community Asian Theatre (CAT).
I especially want to thank our Board members and Advisors for organizing this dinner; special acknowledgements to Charlie Moy for the excellent video presentation and Dr. Kingman Louie for his arranging of the PA system.
On behalf of CACS, thank you for supporting our charitable programs and endeavors; with your help we are making the Sacramento Chinese community a better place!
Photos from the Membership & Volunteer Dinner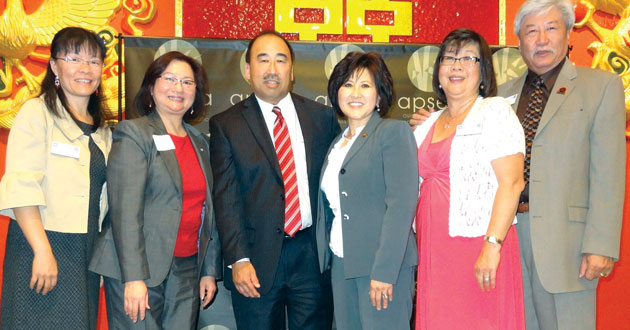 Cathy Wei, Honey Lum, Jeff Uyeda (APSEA President), Juney Lee (APSEA President's Award Recipient), Joyce and Alex Eng
APSEA Annual Scholarship Dinner
By Joyce Eng
On Tuesday, April 23, 2013, CACS representatives Alex Eng, Cathy Wei, Honey Lum and Joyce Eng attended Asian Pacific State Employees Association (APSEA) Annual Scholarship Dinner as a Bronze Sponsor. CACS was acknowledged for its continuous support of APSEA's Scholarship Program.
Scholarship recipients were Lauren Fong, Yangzhi Deng, Ryan Selfaison, Gregory Fong, Wes Okuhara, Mika Ishisaka and Mimi Wong.
Juney Lee, Chief Deputy Director of Department of Rehabilitation, received the APSEA's President's Award and Rebekah Christensen, CEO of IRA Systems, Inc. received the APSEA Member Award.
Tina Machuha, Anchor/Reporter of CW 31 Good Day Sacramento was the MC for this event. She kept the audience entertained and laughing.
This was a great event. Congratulations APSEA Foundation and APSEA. members.
Canton Footprints Book Report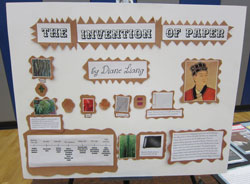 5th grader Diane Liang earned a CACS scholarship award for her "The Invention of Paper" display
By Karun Yee
Through the Sacramento Consortium, CACS was invited to provide judges for the California History Day, where elementary and high shcool students compete for state and national recognition of various projects (video, posters, etc,) dealing with this year's theme: "What event in history impacts our lives today."
Mary Hughes and Karun Yee volunteered to be judges. Mary became a regular judge and Karun was a special judge (for our Asian award).
Dr. Bob LaPerriere gave all the speical scholarship judges instructions and we were off to interview the contestants. All of the young people we spoke to appeared to be responsible and intelligent individuals which renewed our faith in the future.
Our CACS scholarships were awarded to the following students: Shukri Suhir (5th grade), who presented "Ping Pong Diplomacy" between the US and China. Diane Liang (5th grade) made a poster illustrating the history of the "Invention of Paper" (Chinese inventor). The grand prize ($150) was given to Alan and Milan Zhou, who presented a comprehesive documentary on "The impact of the Immigration Act 1965" using slides, TV clips and interviews with various people involved. They included information on Angel Island and Ellis Island. Everyone was so impressed by how professional this looked by students from Folsom High School. They are going on to the state competion.
If you want to become involved in this program next year, please contact CACS.
CACS Congratulates the Frank Fat Family!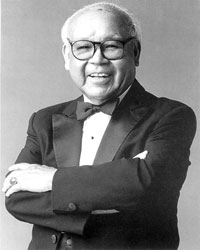 Frank Fat
The James Beard Foundation in New York City has given the Frank Fat's restaurant a lifetime achievement award in a special category called America's Classics. Ten members of the Fat family attended the ceremony on May 6 at Lincoln Center in New York to accept the honor.
The America's Classic award is given to restaurants with timeless appeal, each beloved in its region for quality food that reflects the character of its community. Establishments must have been in existence for at least 10 years and be locally owned. Frank Fat opened his restaurant in 1939.
An April 14 article in The Sacramento Bee Arts & Entertainment section said, "It's clear why Frank Fat's earned a James Beard award."
"For seven decades and counting, Frank Fat's has been a regular dining spot and hangout for plenty of smart, successful and benevolent folks who have devoted their lives to making California a truly great state," wrote Blair Anthony Robertson.
According to Jerry Fat, President and CEO of Fat City, Inc., said that Frank Fat, who died in 1997, instilled the persona- service edict in his family and employees.
CACS is proud to have known Frank Fat, who was a founder of CACS, and continues to build a stronger Chinese American presence through leadership in advocacy, civic and cultural activities.
Pacific Rim Street Fest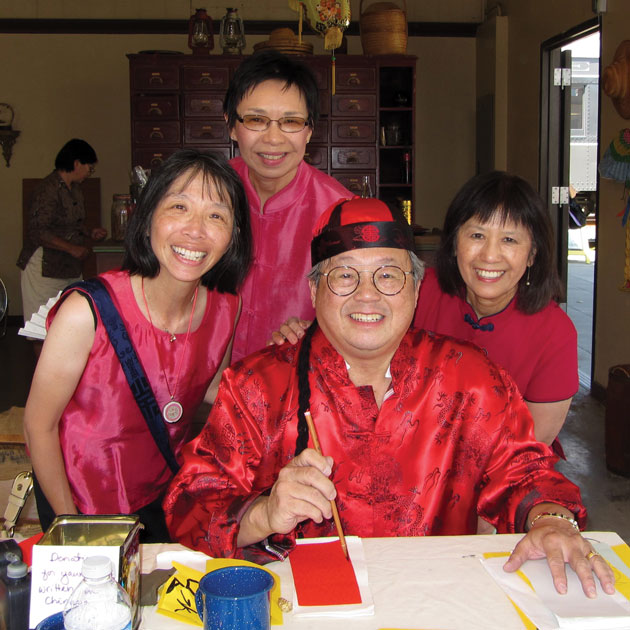 CACS participated at Pacific Rim Street Fest on May 19. Lifetime CACS member Stephen Tse volunteers for Calligraphy. With him are CACS Advisor Merlayna Yee-Chin and Board Members Brenda Fong and Linda Ng

CACS Board of Directors and Advisors at 2012 Gold Mountain Celebration
2012 Gold Mountain Celebration
Thank You to All our Sponsors and Friends!
The Chinese American Council of Sacramento's (CACS), 2012 Gold Mountain Celebration (GMC) success was due to the many corporate sponsors and community- based organizations that helped support this event. The proceeds helped CACS meet our mission and goals for 2012/2013. That is, CACS' Care for Kids Program for school supplies during the summer and holiday food certificates and gifts to needy children and families, donations to the Angel Island Immigration Station Foundation, donations for County History Day, APSEA Scholarship, and other donations to support the Asian Pacific Island Community.
The event was attended by friends of CACS, corporate sponsors and dignitaries at the Happy Gardens Restaurant on October 5, 2012. The evening started with a Lion Dance and the passing out of red envelopes by our dignitaries and corporate sponsors. Most importantly, two special people were honored: Dr. Sonney Chong for the Frank Fat Founders Award and Dr. Douglas Yee was inducted into the CACS Hall of Fame.
Special thanks to our corporate sponsors and community based organizations:
Northern California Carpenters Regional Council, Carpenters Union Local 46
Frank Fat Family & Restaurants
Dr. Herbert Yee and Family
California State University of Sacramento
Hefner, Stark & Marios, LLP
City Councilman Rob K. Fong
County Supervisor Jimmie Yee
Asian Resources
CAPITAL/ CAPITAL Foundation
OCA Sacramento
Georgette Imura & Maeley Tom
Law Offices of Jerry Chong & Alice Wong
LGBT Community – Terry Sidie
Sacramento Chinese Community Service Center
Sacramento Asian Sports Foundation
Yin McDonald's
Sincerely,
Alex Eng, President
Photos from the 2012 Gold Mountain Celebration